Mobile payments put the power of processing in the palm of your hand, wherever and whenever you need it.
Connect. Swipe. Sale Complete.
With the mobile swiper and Vital Mobile app, accepting credit card payments is that simple. The mobile swipers are Bluetooth enabled, so just connect to your device and you're ready to go.
Inexpensive Bluetooth®-enabled, mag-stripe, and chip reader designed to accept payments on the go.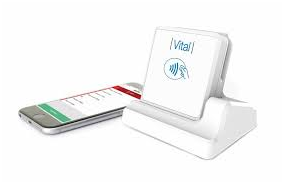 Easy-to-use Bluetooth solution processes chip, mag-stripe and NFC/contactless payments including payments from most digital wallets.
Our nonprofit company uses USB's mobile swipers for every event we host. They are reliable, and Dan gets them to us very quickly!
Amelia,
Catering Company Owner
Sign up with your email address to receive news and updates.